If you are a business owner, it is important to know how to best use your resources so that you keep your ROI high and your expenses as low as possible. At the same time, you need to spend your money in the right place so that you get the best quality products and services for your money. One of the most important things to keep in mind as you look for outsource workers is to find someone who believes in your company goals. If you do not locate the right people who share your vision for your business, you may find yourself sidetracked quickly!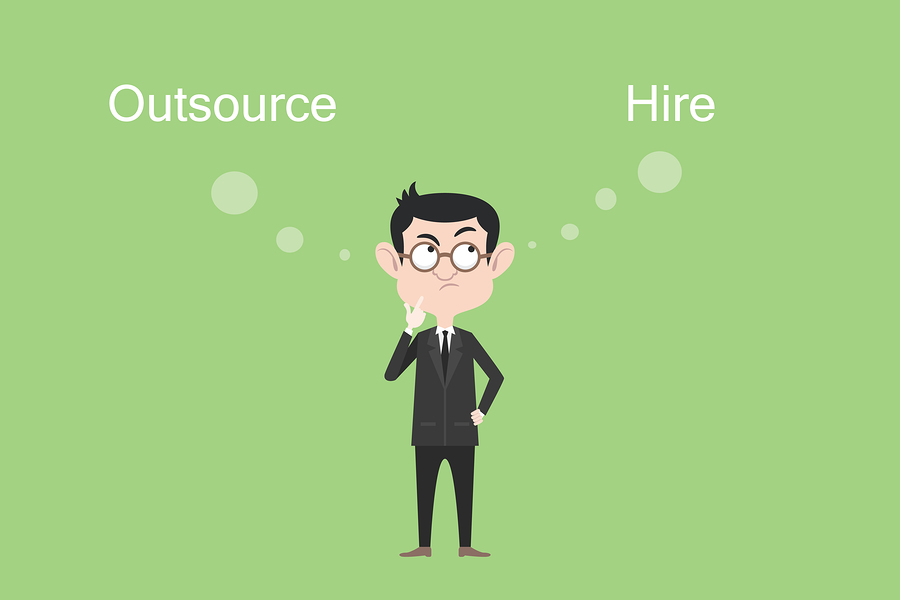 What is outsourcing?
Outsourcing is the act of hiring out specific tasks and jobs that you do not have the time or skills to do yourself. This can be a one-time thing, or you can hire regular artisans and experts that you know you can count on to do the work you need to be done on a regular basis.
Outsourcing is a common practice, and many business owners use this method regularly to recruit needed help for specific jobs. As your business grows, you will find the need to outsource more important. This is because it frees up your time so that you can focus on other tasks that will move your business forward.
Extreme Outsourcing
In his wildly popular book, The Four Hour Work Week, Timothy Ferris outlines the outsourcing aspect of business ownership to include many different tasks including virtual assistants, clerical workers, financial experts, and much more. It's an interesting read and offers entrepreneurs a lot of insight into the true power of outsourcing. This is the main focus of his book. The idea that you can outsource so many different things is why Ferris chose to call his book, The Four Hour Work Week. When you take away some of the responsibilities that you have with your business and hand them over to others, you greatly increase your productivity and freedom to work on more significant projects.
The Hamburger in a Tree
The truth is, Ferris claims, you can outsource anything! He believes that businesses overlook this potentially lucrative act that business owners can take to increase their level of daily productivity.
By handing over some menial tasks that either requires little skill or that you do not have the time or expertise to do, you can increase your earnings and revenue by many times over.
He gives as an extreme example, a time that Howard Hughes hired a boy in his neighborhood to buy a hamburger every day and put it up in a tree. This strange practice created lots of stir and further illuminated Howard Hughes' already eccentric reputation. But Hughes paid the boy $50 per day for doing this so there must have been a reason!
How to Locate the Best People
Steve Jobs had a saying, "It is more important what we say 'no' to than what we say 'yes' to." He was talking about not only projects Apple chose to take on but also the people involved. When he first recruited people for his Macintosh computer which promised to rival the best Apple computer that the company had previously made, he stated that he would only take "A players."
This is a good rule to go by because, when you outsource or recruit people to do the work that represents your company, consumers will not see the difference between you and the outsourced specialists. You must choose the best people so that you don't run the risk of having low-quality work done that will reflect badly on your brand.
Where to Find Good Outsource Workers
The online entrepreneur opportunities have exploded in recent times, so there have been a large number of freelance and outsource websites to fill the need for outsourced workers. From eLance to Upwork and everything in between, you can find outsourced contractors who will write content, design logos, create infographics, animations, and videos, and everything else you need. You'll also find people peddling their skills in menial tasks such as accounting and finance and jobs that are as specialized as software development and app creation.
It takes some research to find the best workers for the job you need. So take your time and try out some of the top freelance design sites such as Freelancer.com, Fiverr.com, and 99designs.com to see what fits your needs.
Never use a creative designer or other artistic contractors who do not have a portfolio. A portfolio tells you what the person can do and where their main skills are. Once you take a look at their work, you can get a better idea of their specialty and style. Keep in mind, however, that the best contractors can find a way to meet your needs and customize your work for your business. So don't count out anyone just because they do not have a sample that you think fits your business goals. Ask them if they can do your project before deciding.
Rules to Find the Best Contractors
When looking for quality outsource people, keep the following tenets in mind, no matter where you find them.
Choose someone with experience in their industry.– If you choose to give a newbie a chance, that's up to you. But you will get better quality if you stick with the ones that have worked up the ladder of success and developed their skills to a higher level. You will pay more for better work so be prepared to make adjustments in your budget to get the best quality.
Look over their portfolio.– As mentioned before, a portfolio is important to deciding if the outsourced worker can help your business. Look at their past work and try to find customer testimonials that show if other customers were happy with their work.
Look at their review on the platforms they are with.– Look for reviews on the platforms that the outsourced person works with and see how customers like their work. Dealing with contractors with their website is a good idea since they probably have posted some customer testimonials on their site. See if customers liked the way they did the job and the refund rate of the contractor.
Ask questions and communicate.– The only way to find out whether an outsource situation will work for you is to ask them what they can do, their going rate, and the turnaround time per project.
Remember that different projects take different amounts of time to complete. They may also vary in cost depending on the amount of time it takes to complete them to your specifications. Find a contractor who is interested in your project, who understands your brand, and who is willing to go the extra mile to help you for good pay.
As a business owner, you have to pay more for better quality. Put quality first and find the people who have some level of expertise in your industry then check out their reputation before deciding who you will trust with your business.